Description
American Marine PINPOINT pH Controller
PINPOINT pH Controller™ is an inexpensive yet rugged controller, which includes the appropriate probe and calibration fluids. This device will automate another electrical device such as a calcium reactor or magnetic solenoid for the addition of CO2 into an aquaculture or process system. This full feature controller will handle up to 5 amps. Comes complete with probe and calibration fluids.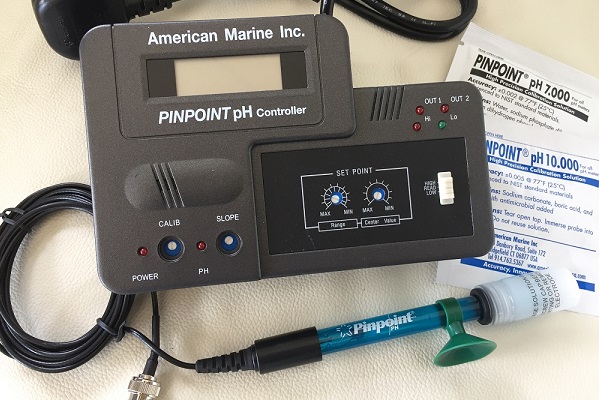 The PINPOINT pH Controller™ is perfect for the freshwater planted aquarium keeper as well as the serious saltwater hobbyist.

Will control pH in both a downward and upward direction. The user will select his or her own setpoint and any range of acceptable pH around this setpoint.

Excellent for Calcium Reactor Setups

230 VAC operation

pH probe included

2 year manufacturer`s warranty

Comes with a 10 foot high supression cable and a BNC connector.

Powered by a standard 9-volt battery (not included).

Optional AC Adaptor Kit.

Calibration Fluid and pH probe included
Manufacturer Info
American Marine was founded in 1989 by a devoted aquaculturist who was passionate about quality and precision. Back in the late 80s, critical water quality parameters were mostly tested with colorimetric test kits. Some digital instruments were borrowed from university or laboratory sources with mixed results but always a high price tag. Expensive European aquarium equipment was always a disappointment when it finally arrived. Inexpensive "pens" gave no better results than color test kits and prematurely failed even when testing for approximate readings.

Using the most current technology and design, American Marine introduced Pinpoint Monitors, which have become the most respected line of digital instruments in the aquaculture business. American Marine was the first to introduce a 2-year warranty on each and every monitor. For every purpose, from a goldfish bowl to a salmon hatchery, Pinpoint Monitors are called into duty every day because of their rugged design, precise readings and reasonable cost. American Marine has sold Pinpoint Monitors on every continent. Each monitor is powered by a standard 9 volt battery that is available worldwide.
Payment & Security
Your payment information is processed securely. We do not store credit card details nor have access to your credit card information.