Description
ATO One is a smart water replenishing device for meeting the needs of using RO water filter system. As long as the sensors and tubing are installed, it can work after powering on without any settings. The sensor uses a magnetic stand for easy installation and adjustment. The standard 1 channel optical level sensor is used to monitor the water level to determine whether it needs to be replenished. A 1-way float sensor is used as standard to prevent overflow. The ATO One for RO has various status indicators and audible and visual alarms.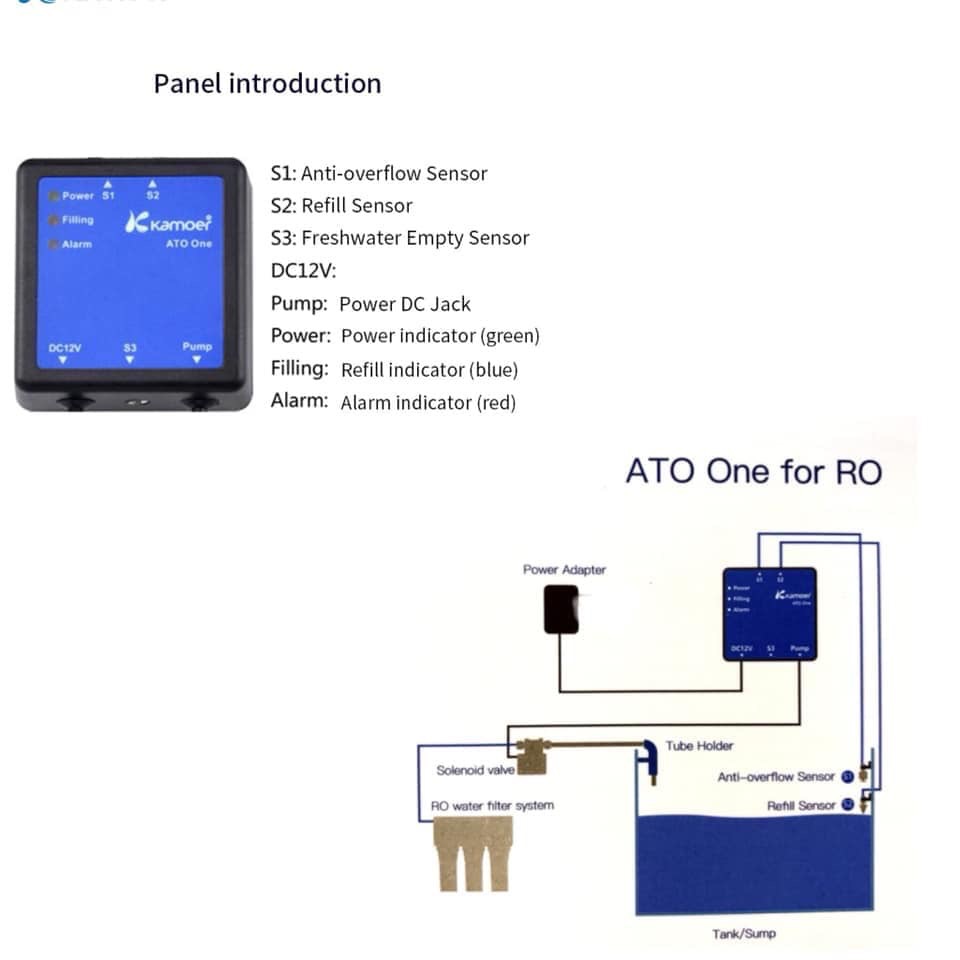 What's in the box?
1x ATO One controller
1x S1 Float sensor
1x S2 Optical sensor
1x Optical sensor bracket
1x Float sensor bracket
4x Plastic magnetic stickers
1x DC 12V Power supply
1x Solenoid valve
1x Tube holder
1x Siphon break
2x PVC tubing

Warranty
We warrant your product against any defect in material and workmanship, under normal use. In the event a product is found to be defective within the warranty period of one year, we will, at our option, repair or replace the defective product. The warranty period starts at the day of purchase. For warranty validation, a proof of purchase must be furnished.

The followings are excluded from the warranty:

1. Improper use of the device causing malfunction;
2. The device is repaired or modified by an unauthorized person;
3. Use of non-produced material by our company i.e. pump tube;
4. Damage by disaster;
5. Improper maintenance causing damage;
6. Use of reagent or sample causing corrosion;
7. Damage by accident or over load;
8. Consumables, such as silicone tube and fuse etc.
Payment & Security
Your payment information is processed securely. We do not store credit card details nor have access to your credit card information.