Description
Rossmont is innovating flow in your aquarium with their line of Mover powerheads. The super silent pumps are magnetically coupled to your aquarium with Rosemont's Vibration Absorbing System and the tiny form factor allows you to place them almost anywhere in your aquarium.
The Rossmont Mover M-series all include flow nozzles that can distribute the flow in a wide and gentle pattern or a tighter focused stream for longer tanks.

Max Flow - 3400 L/h
Max Tank Thickness - 15mm 

Small Form Factor
Rossmont is making some of the smallest pumps on the market that still have enormous flow rates. The efficient design lets them keep everything compact while not interfering with the overall flow rate.

Adjustable Orientation
Placing powerheads can be tricky. The Mover pumps let you have maximum flexibility with the flow direction. Each pump also comes with flow plates that let you modify the type of flow. A single pump can produce a super wide flow for shorter tanks, or a focused stream for longer tanks. The aquarium safe magnetic mounting system securely holds the pump right where you want it.

Silent
With high-quality ceramic bearings and a superior motor the Mover series of pumps are completely silent in their operation, even during start-ups. Rossmont also utilizes a specialized rubber that greatly helps absorb and muffle any vibrations into the VAS (vibration absorbing system) magnetic mounting system, instead of transferring them into the tank.

Waver Control
Yes, the AC powered Mover pumps can be controlled! Control your Rossmont Powerhead Pumps with the Waver Powerhead Controller (sold separately). There are no bulky transformers or power supplies, just a simple standard household plug that connects directly to the Waver. The Waver can control the M-series and MX-series of pumps and can be added at any time to your Rossmont pumps giving you full control through the internet based app that works with all smartphones, iPhones, tablets, and desktops. The WiFi control and internet based interface let you access your pumps in your house, at work, or anywhere in the world that has internet access. 

Recommended for tanks up to 160 litres.

Specifications:
AC controllable stream pump
Flow rate: 3400 L/h
Power absorbed: 5W
Rated voltage: 230VAC - 50Hz
Cord length: 2m
Magnetic support for glasses up to 15mm (0.6in) thick
Included in the box, in addition to the pump, as standard equipment we supply:
- concentrator nozzle M
- protection grid M
- cleaning brush
- multilingual instruction booklet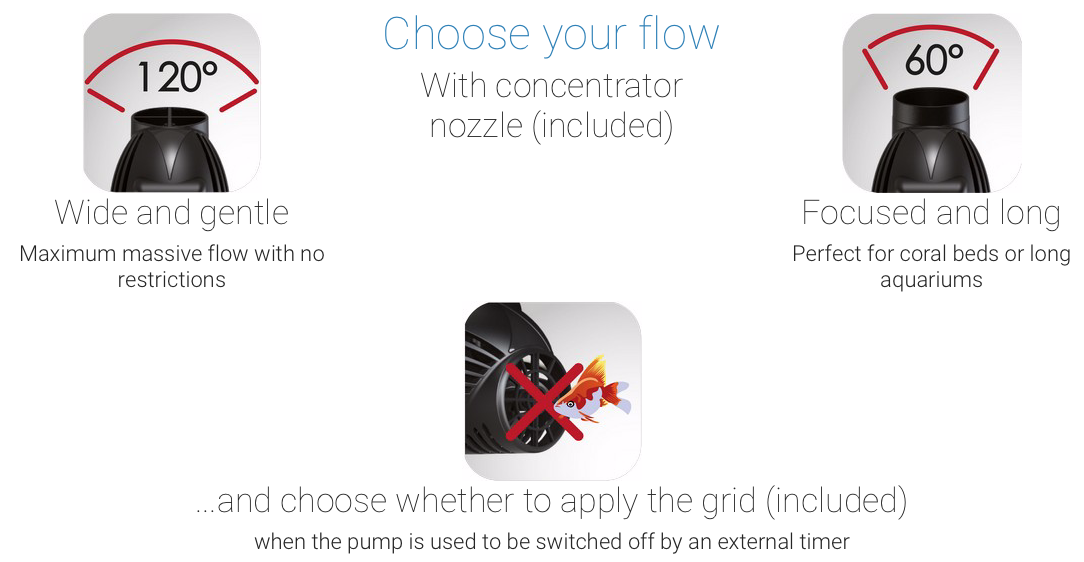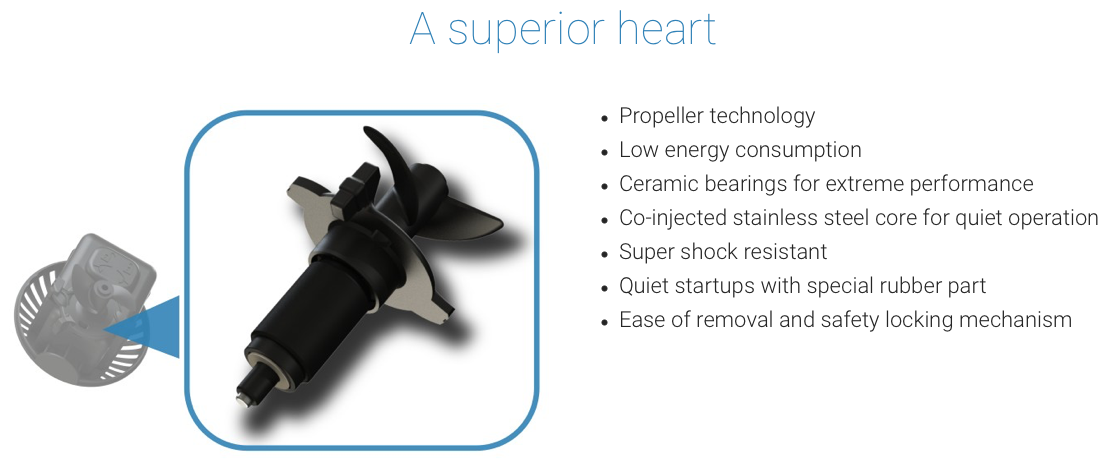 Choose between 8 powerful models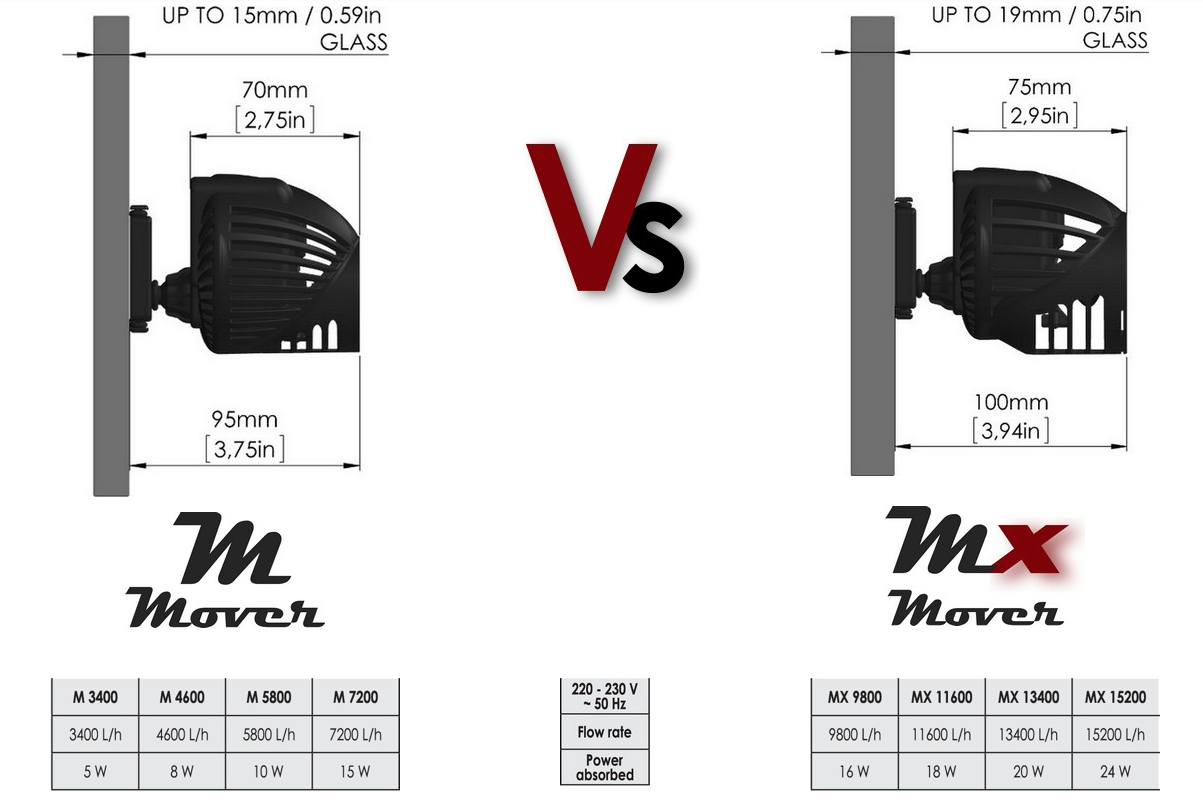 A revolution in pump design reduces maintenance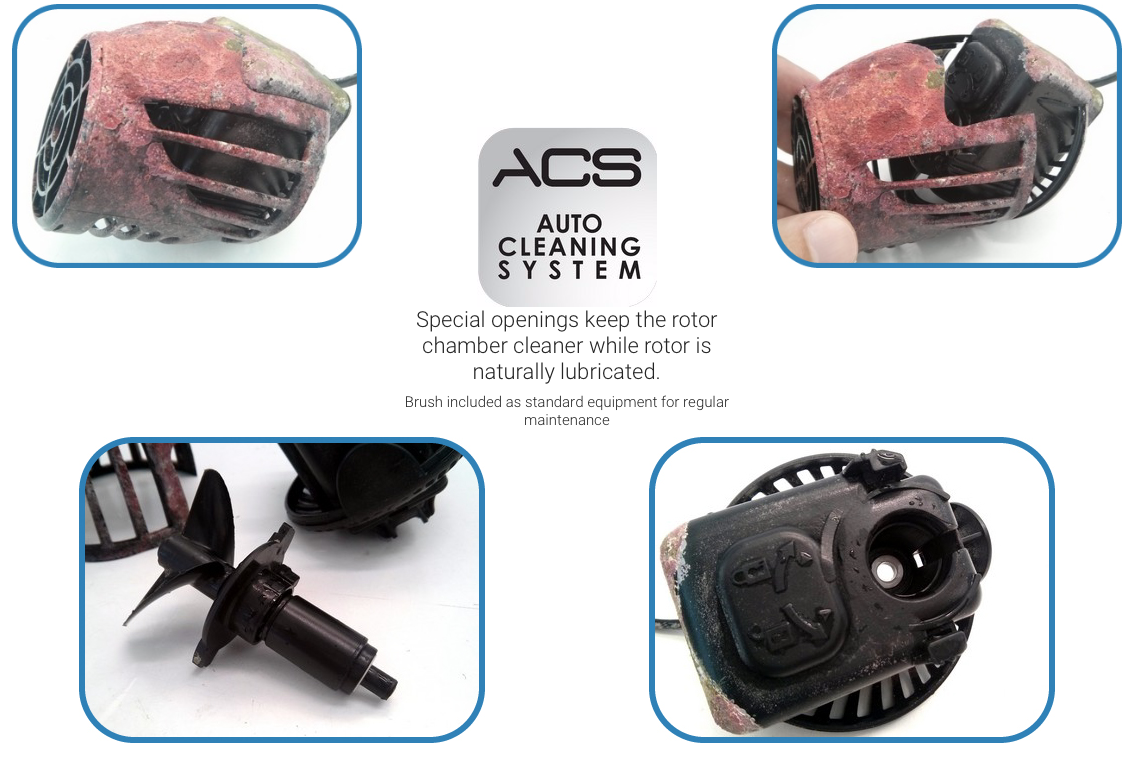 A quiet innovation 

Upgrade your pump to control via WiFi
Just connect your Mover to Waver controller, the 1st device for aquariums in the World capable to drive an AC pump powered at Mains voltage.
In marine reef aquariums, waves and water movement are ESSENTIAL for the good health of the whole habitat.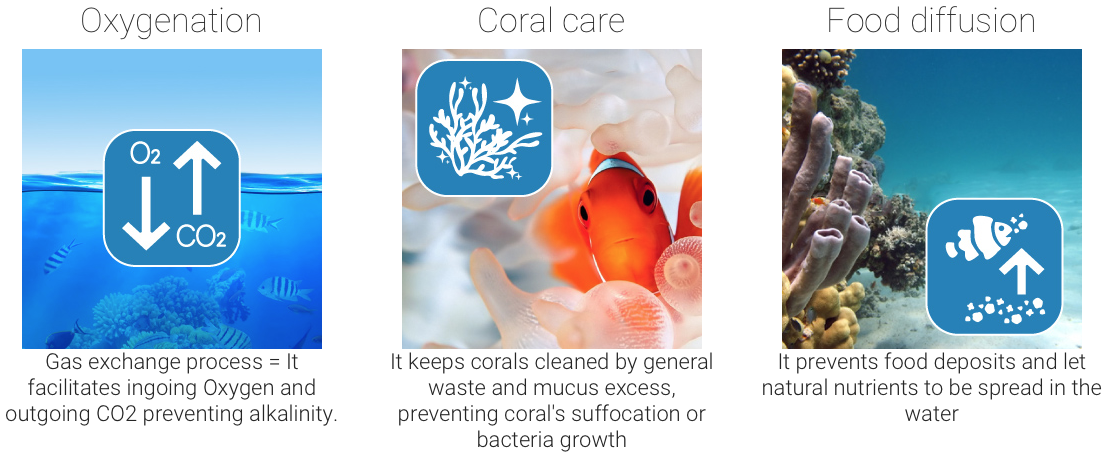 Which kind of pump is capable of providing this?
Popularly called with different names (axial pump, propeller pump, circulation pump, etc...) a stream pump (like Rossmont Mover) has a particular wide turbulent jet, gentle but efficient and suitable for this purpose. It's action cone is designed to move the whole mass of water (as happens in nature) while common powerheads pumps in commerce are not able to solve this function because their laminar jet is too direct and concentrated.
And what about freshwater?
In the same manner, moving water supports the gas exchange with the adjcent air and it naturally facilitates the growth and the wealth of fishes and plants. It also avoids the formation of stagnant areas (dead spots) among the plants and it helps in maintaining a uniform water temperature in all its points. Moreover, it helps the aquarium filters in waste removal.
How to make the right choice?
Follow next steps to choose the products that fit most in your tank
ACS technology (Auto Cleaning System)

Internal parts auto lubrication

Very low maintenance frequency

Designed for 24/7 operation

Cleaning brush (included) to be soaked in vinegar or lemon juice for best maintenance result

Reach also the smallest openings
 

100% Made in Italy

Serial Number for full product trace

36 months extended warranty
Payment & Security
Your payment information is processed securely. We do not store credit card details nor have access to your credit card information.