Description
Ensure Precise and Consistent Dosing
The Kamoer X4 PLUS is the latest, state of the art WiFi controllable dosing pump. It has all the same features as the standard X4 model, but now comes equipped with powerful rust-proof pump heads with longer lifetime, improved accuracy and more stable buckle drive. It offers flexible and precise control of liquid additions to your aquarium with four channels each with different colours to differentiate dosing liquid. The easy to use mobile interface make setup a breeze.
Software Details
3 operation modes (Manual, Auto or Custom mode).

Easy setting

Set dosing start and stop time (does not have to be 24 hours (Example, user can set to auto dose from midnight to 6am only)

Enter total number of ml to be dosed over the time period

Enter the number of times to dose each time period (up to 24hr)

User can even choose dosing every 1 - 3 days or certain days per week.

Adjustable dosing volume Auto mode: 0.1 - 9,999.9ml

Delay setting between channels prevents chemical interference.
Functions
WiFi Control of dosing Pump via iPhone, Android device or PC

Temperature Detection

Temperature threshold alarm

4 Liquid Level detection inputs

Software update via WiFi

Easy to read onboard backlight LCD display

Battery back up - Settings saved if power lost

Uses high quality PharMed® Tubing in pump head

Calibration Accuracy: 0.1ml

Minimum Dosing Volume 0.1ml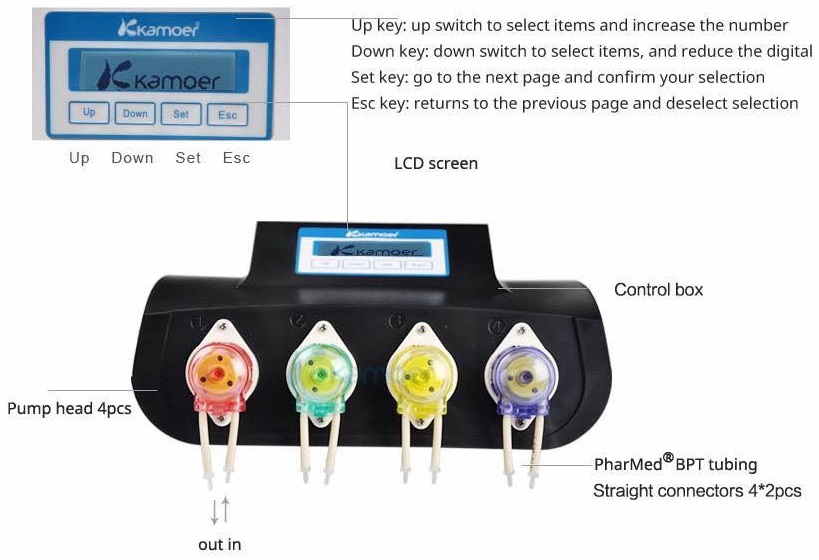 Specifications
Dosing Times: 24 times per day, to once every 7 days

Fluid Volume: 1ml - 1000ml

Calibration accuracy up to 0.01

Accuracy: <+/-2%

Dimensions 250 x 150 x 75mm

Weight: 900g
Package Includes:
X4 dosing pump

Dosing pump holder

Liquid level sensor manifold

Temperature sensor

PVC tube

Liquid level sensor

Graduated cylinder

Power adapter

Pump head

Tube holder manifold / tube bracket

Suction cup

User manual  
Payment & Security
Your payment information is processed securely. We do not store credit card details nor have access to your credit card information.