Description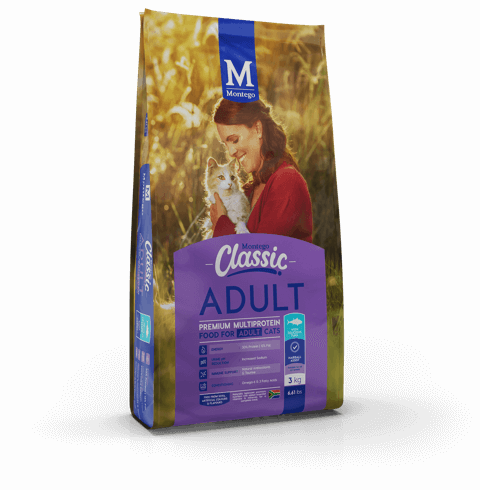 DELICIOUS TUNA
Naturally balanced premium nutrition with added essential vitamins & minerals for a complete meal.
ENERGY
30% Protein | 12% Fat
URINE PH REDUCTION
Increased Sodium
IMMUNE SUPPORT
Natural Antioxidants & Taurine
FREE FROM SOYA, ARTIFICIAL COLOURS & FLAVOURS
ABOUT CLASSIC
ADULT
To get the most out of life, an adult cat requires an optimally balanced diet, rich in nutrients, energy and flavour. Classic Adult's premium formulation is tailored to deliver in all these areas, providing adult cats with everything they need for maintaining a healthy weight and well-being.
Energy
Inclusive of 30% Protein and 12% Fat, this high-protein meal with essential amino acids and fatty acids, combined with proper exercise, helps your cat build lean muscles in order to reach and maintain a healthy weight and muscle conditioning.
Well-being
Both added and natural dietary Taurine levels are boosted by increasing Classic Adult's meat-based proteins, supporting cardiac function and retinal health.
Hairball Assist
Fructo-oligosaccharides reinforce intestinal health and reduce the risk of digestive upsets, while natural Lignocellulose can help prevent hairball formation, moving hair smoothly through the digestive system.
Conditioning
Balanced Omega-6 & 3 fatty acids help nourish skin – ensuring a soft, shiny coat. Added Calcium helps build strong teeth and bones.
Urine pH Reduction
Increased Sodium stimulates the urge to drink, increasing the volume of urine and restricts Magnesium levels, while helping to reduce urinary pH levels.
Immune Support
Natural Antioxidants, such as Vitamin C and E, help support overall cellular health and assist in developing a healthy immune system.
Classic Adult available in 1kg, 3kg, 5kg and 25kg bags.
 

V29157 (Act 36 of 1947)
Payment & Security
Your payment information is processed securely. We do not store credit card details nor have access to your credit card information.