Description
Trigger Systems specializes in aquarium sump manufacturing in the USA (Dallas, Texas). All Trigger sumps come with a full top support brace which is made of a solid piece of material to prevent bowing over time from the humidity and water pressure. They also round the corners instead of squaring them which exponentially increases the strength of the corners.
The Emerald series introduces several new features not found anywhere else. Some of the features are:
Interchangeable plates (Patent Pending)

Laser etched lid to prevent splashing and reduce noise

Adjustable water level

Self adjusting foam block platform (Patent Pending)

Dual platforms

Laser engraved water level indicator

Three position probe holder

0.25″ hose holder for dosing and ATO inputs

Protein skimmer section

Refugium section

Emerald green colouring to block light and prevent unwanted algae growth in other sections
Section Details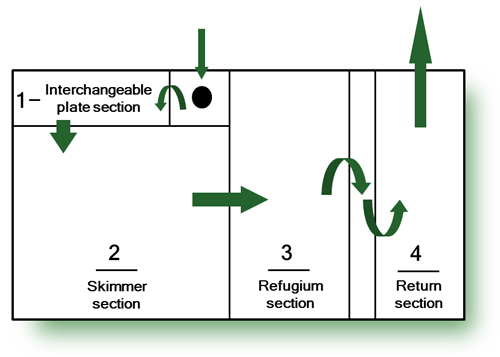 The Emerald 26 has 4 main sections. Water enters the sump into a dedicated section where the water will then flow over into Section 1.

Section 1 is the configurable interchangeable plate area allowing for filter sock and/or foam block mechanical filtration. This area is covered with a lid to prevent water splashing and reduce noise. Water then flows out the bottom of Section 1 into Section 2.

Section 2 is typically where the protein skimmer is located. Water then flows through the 'Trigger Symbol' cutout into Section 3.

Section 3 is the refugium section. The water then flows over the adjustable water level baffle through 2 perforated platforms and under the last baffle into Section 3. The top perforated platform comes with a foam block filter and the bottom one is open to use for several different filtration methods (MarinePure high performance bio-media, Poly-filter, bag of carbon, bio balls, bio media, rubble rock, etc.).

Section 4 is the return section where the return pump will sit, pumping water back to the display tank.
Key Features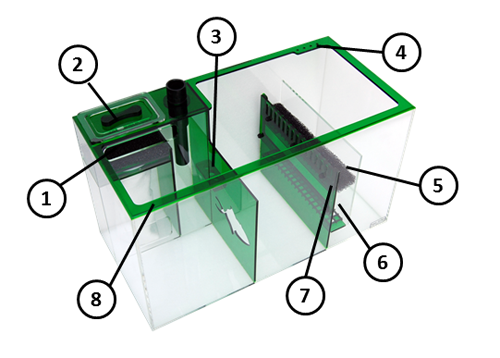 Interchangeable plates

Lid to prevent splashing and reduce noise

Three position probe holder

0.25″ hose inputs for dosing and ATO

Adjustable water level with self adjusting top platform

Dual platforms

Laser engraved water level indicator

Full top support brace to prevent bowing
Interchangeable Plates

The Emerald 26 comes with the following accessories for Section 1:
Filter Sock Plate

4″ Filter Sock (100 micron rating)

Foam Block Distribution Plate

Filter Foam Block
The Filter Sock Plate can be installed with filter socks as shown. EMERALD26 has a single 4″ sock, EMERALD34 model shown in the images.



The Foam Block Distribution Plate is perforated with holes and can be used when filter socks are not desired or in the case when the filter socks need to be changed or cleaned but replacement socks are not readily available and you want to maintain some level of mechanical filtration. In this case, simply remove the filter socks and install the Foam Block Distribution Plate with the foam block.


The Foam Block Distribution Plate may also be used on top of the Filter Sock Plate with filter socks. This configuration helps to distribute the water more evenly across all socks so that the filter socks will last longer before clogging and will clog at the same time. This also helps to silence the water noise by slowing down and spreading the water more evenly across the surface area of all of the socks. In this configuration, the foam block filter can be placed on top to enhance even further the silencing and distribution of water and also allow even longer times before the socks become clogged by providing a pre-filter before the socks. This configuration is shown in the image and is the default configuration.

Three Slot Probe Holder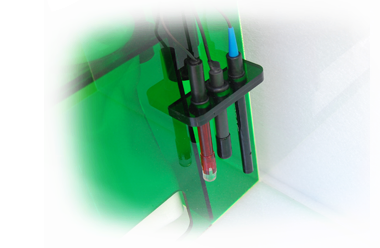 The EMERALD26 come with a probe holder that can hold up to three probes. The two outside holes are 0.63" in diameter and the center hole is 0.8" in diameter to fit different sized probes.

Adjustable Water Level with Self Adjusting Foam Block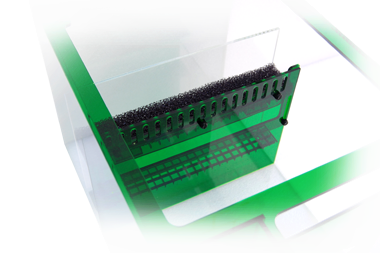 Water level in the sump is adjustable from 7" to 9.5" to accommodate for the water height requirements for different protein skimmers. Simply move the baffle to the desired height location and tighten the two bolts to hold in place. As the water level is adjusted by sliding the wall up and down, the foam block filter and the top perforated platform also move up and down automatically. This is important to maintain the correct location of the foam block sponge filter with respect to the sump water height and also to maximize the media capacity for the bottom platform.

Laser Engraved Water Level Indicator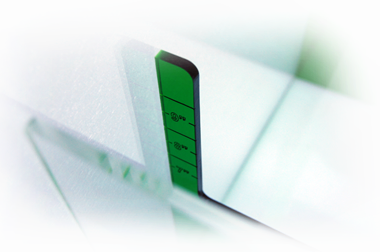 Subtle water level height indicator is laser engraved on the inside wall to help when setting the adjustable water level to to the desired water height based on protein skimmer requirements.

Dosing, ATO Hose Holder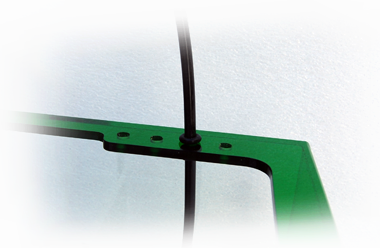 All Emerald sumps also come with 4 holes in the top support brace for holding in place 1/4" OD tubing from reactors, dosing containers or ATOs.

Laser Etched Lid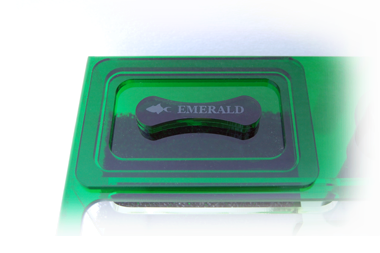 The laser etched lid over the interchangeable plate section allows for easy access to the filter socks and foam filter while providing suppressed noise and splashing.
Specifications
Dimensions: 66cm (length) x 33cm (width) x 38cm (height)

Drain Input Fittings: 1

Mechanical Filter: 1 x 4" (10cm) filter sock and/or foam block

Skimmer Section: 20.9cm x 25.4cm

Center/Refugium Section: 19.6cm x 31.7cm

Return Pump Section: 12.7cm x 31.7cm

Total Water Volume: 77 litres (20.4 gallons)

Skimmer Water Level: 17.7cm - 24.1cm adjustable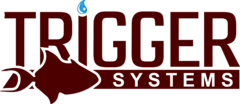 PLEASE READ HERE! Juwel tanks can only be collected from our PE Store!
Due to the high value of these tanks our courier partners cannot deliver as insurance does not cover them. We unfortunately can only sell for collection only. 
Payment & Security
Your payment information is processed securely. We do not store credit card details nor have access to your credit card information.